Multi-use ready-to-wear, ideal for painting, construction and auto repairs. The perfect solution for an economical and heavy-duty coverall. The same coveralls seen in industrial applications and garages.
Rental services don't want to rent coveralls with small holes or paint stains, so Buffalo offers them to you at a great savings, in a range of sizes. Available in both loose-packed and in individual poly bags. Colors, fabric type and sizes will vary.
---
Sizes:
M 40-42, L 44-46, XL 48-50
(Sizes 50+ available on a spot basis.
Please inquire.)
Material:
Cotton and cotton/poly blends
Due to their previous use, these coveralls may have slight imperfections such as small holes or stains.
MULTIPLE PRODUCT USES:

INDUSTRIAL:
Garment Protection

AUTOMOTIVE:
Oil & Grease Barrier

MARINE:
Boatyard & Ship Maintenance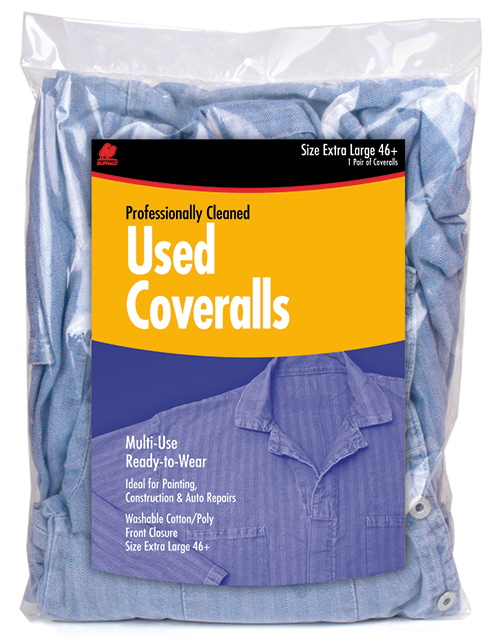 USED COVERALLS

ITEM #

DESCRIPTION

QTY/CASE

15008
Size M – Bulk Pk Box
15
15007
Size M – 1 Pk Bag
10
15004
Size L – Bulk Pk Box
15
15005
Size L – 1 Pk Bag
10
15002
Size XL – Bulk Pk Box
15
15003
Size XL – 1 Pk Bag
10
15000
Size XXL – Bulk Pk Box
15
15001
Size XXL – 1 Pk Bag
10
15010
Size 52 – Bulk Pk Box*
10
15011
Size 54 – Bulk Pk Box*
10
15012
Size 56 – Bulk Pk Box*
10
15013
Size 58 – Bulk Pk Box*
10
15014
Size 60 – Bulk Pk Box*
10
*Subject to availability