Conveniently Bundled in Varying Sizes, for Jobs Small-to-Large.
Available in Oil-Only and Universal.
Available with universal or oil-only polypropylene sorbents, Buffalo's Spill Kits solve your needs for immediate, reliable and portable spill containment. These kits contain everything you need for quick and effective response to an oil or chemical spill. Please refer to the "Fast Facts About Sorbents" chart on the Sorbent Selection page for further explanation about sorbents and their characteristics.
OIL-ONLY (White) sorbents absorb only oil-based fluids, such as motor oil and hydraulic/transmission fluid. They will not absorb water or water-based fluids.
UNIVERSAL (Gray) sorbents absorb all oil-based and water-based fluids, including paint, solvents, and acids.
CLICK HERE to view the Spill Kit Instructions.
---
Boater's Spill Kit
15 – 15″ x 18″ Heavy-weight, oil-only, bonded and laminated, recycled polypropylene pads
3 – 4 ft. recycled polypropylene containment socks
1 pair nitrile gloves
1 disposal bag with closure
Usage and disposal instructions
Zippered vinyl carrying bag
Available in Oil-Only only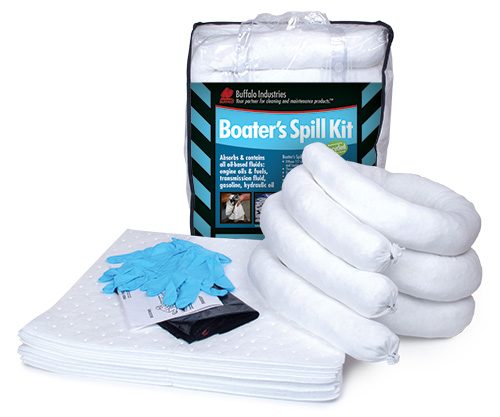 ---
Boater's Paint Spill Kit
12 – 15″ x 18″Heavy-weight, universal, recycled, laminated, bonded pads
1 – 10′ Polypropylene containment sock
1 Pair nitrile gloves
1 Disposal bag
Instructions
Zippered vinyl carrying bag
Available in Universal only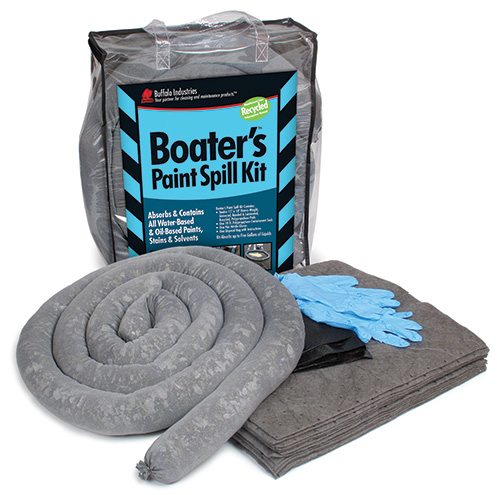 ---
Painter's Spill Kit
12 – 15″ x 18″Heavy-weight, universal, recycled, laminated, bonded pads
1 – 10′ Polypropylene containment sock
1 Pair nitrile gloves
1 Disposal bag
Instructions
Zippered vinyl carrying bag
Available in Universal only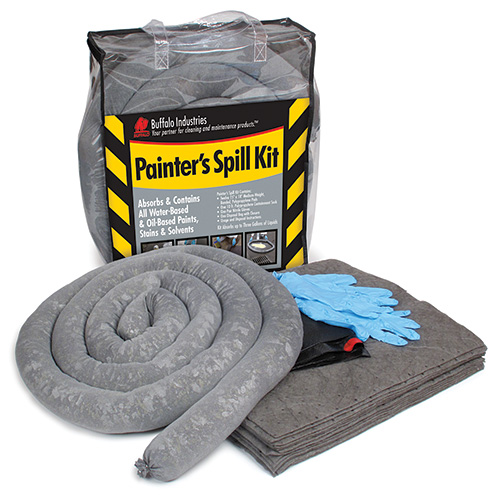 ---
5 Gallon Economy/Quick-Response Spill Kits
15 Medium-weight, bonded pads
3 – 4′ Polypropylene containment socks
1 disposal bag
1 Pair nitrile gloves
Instructions
Zippered vinyl carrying bag
Available in Oil-Only and Universal
5 GALLON ECONOMY/QUICK-RESPONSE SPILL KITS

ITEM #

DESCRIPTION

QTY/CASE

92000
Universal Economy Spill Kit (Retail Packaging.)
5
92001
Oil-Only Economy Spill Kit (Retail Packaging.)
5
---
5 Gallon Bucket Spill Kits
12 Medium-weight, bonded pads
2 – 4′ Polypropylene containment socks
1 Disposal bag
1 Pair nitrile gloves and instructions
Bucket with snap-on lid
Available in Oil-Only and Universal
5 GALLON BUCKET SPILL KITS

ITEM #

DESCRIPTION

QTY/CASE

92050
Universal
92051
Oil-Only
---
6.5 Gallon Bucket Spill Kits
15 Medium-weight Bonded Pads
1 – 4′ Polypropylene containment sock
1 – 10′ Polypropylene containment sock
1 Pair of goggles
1 Disposal bag
1 Pair of nitrile gloves
Instructions
Bucket and screw-on lid
Available in Oil-Only and Universal
6.5 GALLON BUCKET SPILL KITS

ITEM #

DESCRIPTION

QTY/CASE

92010
Universal
92011
Oil-Only
---
20 Gallon Poly-Overpack Spill Kits
25 Medium-weight bonded pads
4 – 4′ Polypropylene containment socks
1 – 10′ Polypropylene containment sock
1 Pair of goggles
2 Disposal bags
2 Pairs of nitrile gloves
1 Guidebook
Instructions
Heavy poly drum with screw-on lid
Refills available
Available in Oil-Only and Universal
20 GALLON POLY-OVERPACK SPILL KITS

ITEM #

DESCRIPTION

QTY/CASE

92020
Universal
92020RF
Universal – REFILL
92021
Oil-Only
---
30 Gallon Poly-Overpack Spill Kits
50 Medium-weight bonded pads
4 – 4′ Polypropylene containment socks
2 – 10′ Polypropylene containment socks
1 Pair of goggles
2 Disposal bags
2 Pairs of nitrile gloves
1 Guidebook
Instructions
Heavy poly drum with screw-on lid
Available in Oil-Only and Universal
30 GALLON POLY-OVERPACK SPILL KITS

ITEM #

DESCRIPTION

QTY/CASE

92030
Universal
92031
Oil-Only
---
65 Gallon Poly-Overpack Spill Kits
100 Medium-weight bonded pads
6 – 4′ Polypropylene containment socks
6 – 10′ Polypropylene containment socks
2 Pairs of goggles
4 Disposal bags
4 Pairs of nitrile gloves
1 Guidebook and instructions
Heavy poly drum with screw-on lid
Available in Oil-Only and Universal
65 GALLON POLY-OVERPACK SPILL KITS

ITEM #

DESCRIPTION

QTY/CASE

92060
Universal
92061
Oil-Only
---
95 Gallon Poly-Overpack Spill Kits
100 Medium-weight bonded pads
8 – 4′ Socks
8 – 10′ Socks
2 Pairs of nitrile gloves
2 Pairs of goggles
4 Disposal bags
4 Pairs of nitrile gloves
1 Guidebook
Instructions
Heavy poly drum with screw-on lid
Available in Oil-Only and Universal
95 GALLON POLY-OVERPACK SPILL KITS

ITEM #

DESCRIPTION

QTY/CASE

92090
Universal
92091
Oil-Only