Buffalo Polypropylene Sorbents are the most effective way to handle cleanup and removal of oil, industrial fluids and water. There's a variety of sorbents available:
If a particular product is not listed, we can special order the item for you.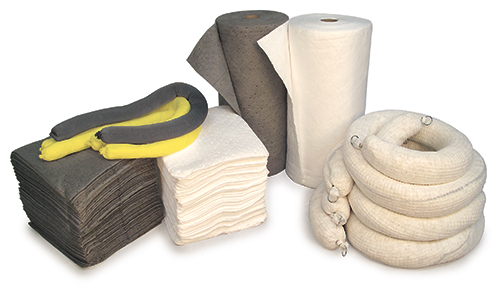 ---
Sorbents Available
Pads
Rolls
Booms
Socks
Pillows
Drum Top Pads
Sweeps
Fast Facts About Sorbents
Oil-Only: (WHITE) Absorb oil-based fluids such as motor oil and hydraulic and transmission fluid. Won't absorb water.
Universal: (GRAY) Absorb all oil- and water-based fluids, including paint, solvents, and acids.
Hazmat: (YELLOW) Universal, absorb all oil-and water-based fluids of aggressive, caustic and unknown chemicals. Bright yellow indicates ˝caution˝.
Pads: Economical, easy to apply and pick up after spills.
Rolls: Best for large spills and high traffic areas.
Booms & Socks: For spill containment on water and land, or around drains and equipment.
Meltblown: Random-direction strands without lamination or bonding. Most economical sorbent.
Lamination: Produces a no-lint sorbent, best used on rough and/or irregular surfaces.
Sonic Bonding: Spot-bonded layers for strength and durability.
Fine Fiber: Near no-lint and very absorbent.
CLICK HERE to view the Spill Kit Instructions.