Kit Absorbs up to 5 Gallons of Liquids. 
These portable quick response Painter's Spill Kits for contractors fit conveniently behind seats in work vehicles and can be placed in multiple job-site areas. Polypropylene pads and socks absorb and hold all water-based and/or oil-based paints, stains and solvents.
Consumers will also appreciate the ease-of-use and peace-of-mind from having a Painter's Spill Kit for accidental spills in and around the home.
---
Painter's Spill Kit Contains:
Twelve 15″ x 18″ Heavy-Weight, Recycled, Laminated, Bonded, Polypropylene Pads
One 10 ft. Polypropylene Containment Sock
One Pair Nitrile Gloves
One Disposal Bag with Instructions
Kit Size: 14.5 x 19 x 5.5″ zippered,
vinyl carrying case, with handles.
CLICK HERE to view the Spill Kit Instructions.
CLICK HERE to view Fast Facts About Sorbents.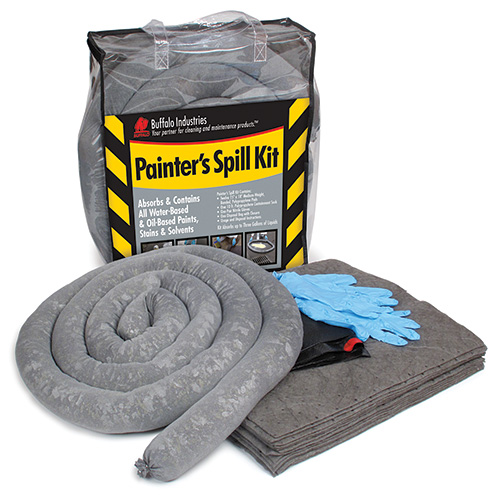 PAINTER'S SPILL KIT –
Universal, Gray, Zippered Storage Bag

ITEM #

DESCRIPTION

QTY/CASE

 92002
Contains 12–15″ x 18″ medium-weight, bonded, polypropylene pads; 1–10′ polypropylene containment sock; 1 pair nitrile gloves; 1 disposal bag with closure; usage and disposal instructions. Kit absorbs up to 5 gallons of all liquids.
4