At Buffalo, we pride ourselves on an across-the-board, unified look for our packaging, drawing on our more than 80 years of experience. We offer a full range of sizes, from small to large, appealing to impulse retail consumers, vending machine sales, industrial users and aftermarket channels.
Our strong, unified style means that our products create
a 
sharp and eye-catching presence in-store, online and in print.
Our distinctive packaging, with its bold, colorful graphics, provides concise and easy-to-understand product information and usage suggestions. Our packaging program lends itself to both retail and wholesale planogram sales displays.
---
Cloth Wipers are available in a variety of bags 
and boxes, from 1 pound to 50 pounds.
Counter Display Boxes are perfect for impulse sales near the register or in retail shelf displays.
4 and 8 Pound boxes create eye-catching, 
impulse-satisfying stack-outs in showroom displays.
Compressed poly bags are a space-saving 
alternative to corrugated boxes.
Some bagged and boxed items are available 
in full and half pallet order multiples.
Recycled White T-Shirts are shown here as representative examples. Packages are not shown to scale or relative size.
---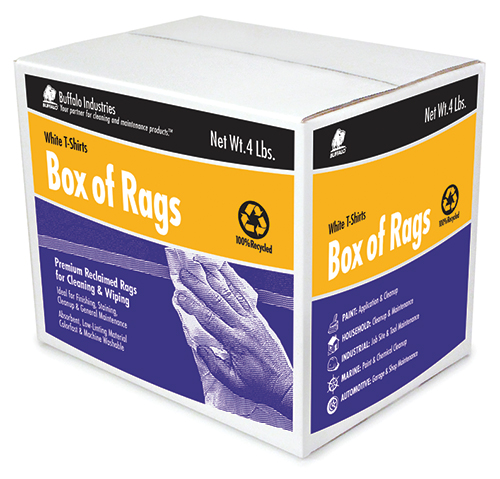 4 POUND BOX:
10.125″ wide x 8.875″ high x 7.875″ deep
---
8 POUND "SPACE SAVER" BOX:
13.25″ wide x 14.875″ high x 6.875″ deep
---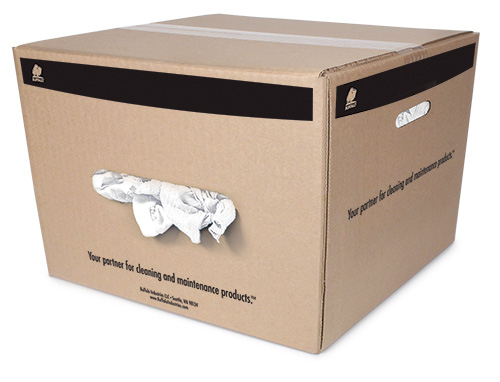 25 POUND BOX:
20.5″ wide x 14.625″ high x 11.875″ deep
---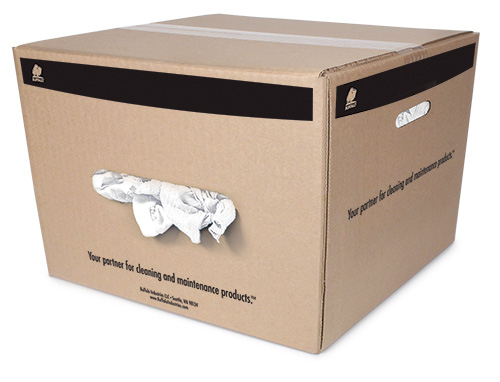 50 POUND BOX:
24″ wide x 20″ high x 16″ deep
---