Packaged specifically for the marine market, these super absorbent Marine Retail Sorbents answer the specific needs of marinas and boaters.
OIL ONLY: they will only absorb oil and oil-based liquids such as fuel and hydraulic fluid. They will NOT absorb water. They can, therefore, be used in the bilge, or floated on the water to absorb fuel and oil leaks.
CLICK HERE to view the Spill Kit Instructions.
---
Boater's Spill Kit
Contents: 12 heavy-weight, oil-only, recycled, laminated, bonded pads; 1- 10′ sock, 1 disposal bag, 1 pair nitrile gloves and instructions. Contained in zippered vinyl carrying bag.
Available in Oil-Only only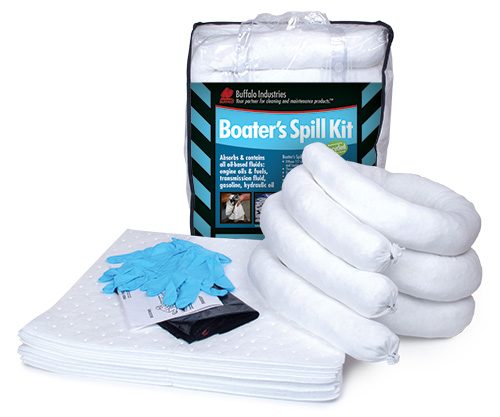 ---
Boater's Paint Spill Kit
Contents: 12 heavy-weight, universal, recycled, laminated, bonded pads; 1- 10′ sock, 1 disposal bag, 1 pair nitrile gloves and instructions. Contained in zippered vinyl carrying bag.
Available in Universal only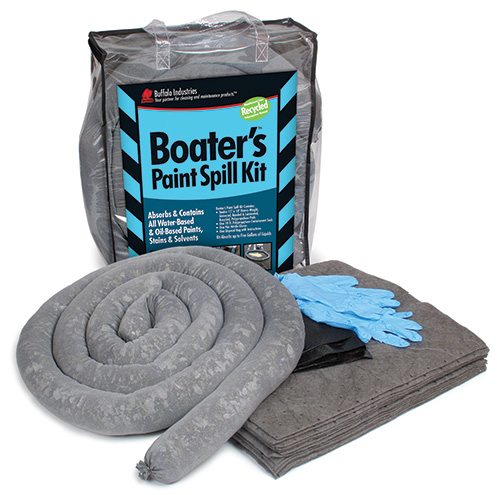 ---
Oil Sorbent Pads – 5 Pack Roll
Ideal for engines, hydraulic systems, holding tanks & catch basins. Easy to store & use. Five Pads absorb over a half gallon.
Size: 15″ x 18″ Pads
Material: 100% Polypropylene
Available in Oil-Only only

OIL SORBENT PADS – Oil-Only, Bonded

ITEM #

DESCRIPTION

QTY/CASE

90700
Lightweight, Meltblown Pads 5 Pk Roll
15″ x 18″ (Retail Packaging.)
20
---
Small Bilge Oil Boom
Ideal for bilges, sumps, drains & basins. Easy to store & use. Lint-free. Won't shed. Absorbs up to 1.2 gallons.
Size: 15″ x 5″ Diameter
Material: 100% Polypropylene fill
Available in Oil-Only only

SMALL BILGE OIL BOOM – Oil-Only

ITEM #

DESCRIPTION

QTY/CASE

90400
Small Bilge Oil Boom 5″ x 15″ (Retail Packaging.)
20
---
Large Bilge Oil Boom
Ideal for bilges, sumps, drains & basins. Easy to store & use. Lint-free. Won't shed. Absorbs up to 2.8 gallons.
Size: 19″ x 6″ Diameter
Material: 100% Polypropylene Fill
Available in Oil-Only only

LARGE BILGE OIL BOOM – Oil-Only

ITEM #

DESCRIPTION

QTY/CASE

90405
Large Bilge Oil Boom 6″ x 19″ (Retail Packaging.)
12
---
Oil Sorbent Sock
Ideal for engines, docks & marinas, sumps, hydraulic systems. Easy to store & use. Absorbs & contains spills. Lint-free. Won't shed. Absorbs up to 1.3 gallons.
Size: 48″ x 3″ Diameter
Material: 100% Polypropylene Fill
Available in Oil-Only only

OIL SORBENT SOCK – Oil-Only

ITEM #

DESCRIPTION

QTY/CASE

90900
Meltblown Sock 3″ x 4′ (Retail Packaging.)
30