Kit Absorbs up to 5 Gallons of Oil-Based Liquids.
Will NOT Absorb Water.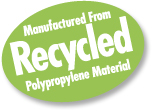 Boat owners, mechanics and deck hands will appreciate the ease-of-use and absorption capacity of the Boater's Spill Kit. Buffalo's compact and portable Boater's Spill Kit fits conveniently in marina lockers and many small storage areas both above and below deck, in sail and power boats alike.
All Boaters will have peace-of-mind knowing they have a portable Boater's Spill Kit on board that can be used for accidental spills or leaks in and around the boat, marina or fuel dock. Buffalo Recycled Polypropylene Pads and Booms are "hydrophobic". They will float on fresh and salt water, absorbing all oil-based liquids without absorbing water.
---
Boater's Spill Kit Contains:
15 – 15″ x 18″ Heavy-weight, oil-only, bonded and laminated, recycled polypropylene pads
3 – 4 ft. Recycled polypropylene containment socks
1 Pair nitrile gloves
1 Disposal bag with instructions
Zippered vinyl carrying bag
Available in Oil-Only only
Kit Size: 14.5 x 19 x 5.5″ zippered,
vinyl carrying case, with handles.
CLICK HERE to view the Spill Kit Instructions.
CLICK HERE to view Fast Facts About Sorbents.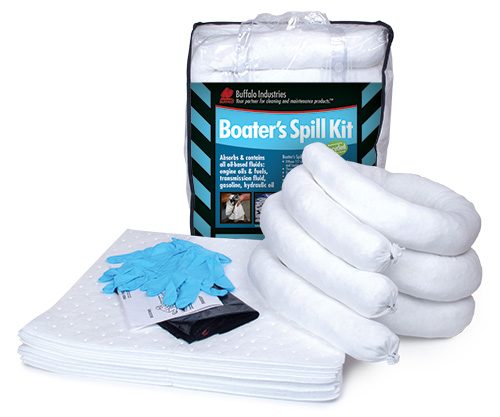 BOATER'S SPILL KITS –
Oil-Only in a Zippered Storage Bag (Retail Packaging)

ITEM #

DESCRIPTION

QTY/CASE

92003
Contains 15–15″ x 18″ heavy-weight, oil-only, bonded and laminated, recycled polypropylene pads; 3–4′ recycled polypropylene containment socks; 1 pair nitrile gloves; 1 disposal bag with instructions. Kit absorbs up to 5 Gallons of oil-based liquids.
5